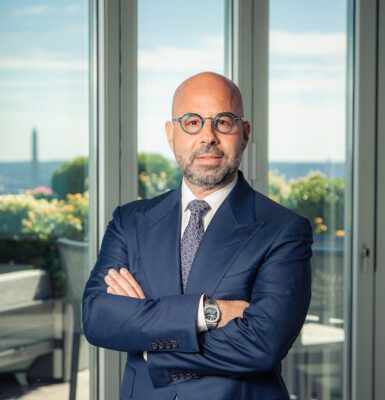 Back to Leadership
Amro Nahas
Shareholder & Managing Director
Amro Nahas joined Ritz Banc Group as a Shareholder and Managing Director in January of 2020 where he is also a member of the Executive and Investment Committees. Mr. Nahas has more than 28 years of consulting, corporate investment, portfolio management and investment banking across the US, Canada and the MENA region in the fields of real estate, financial services, industrial and manufacturing sectors and has worked on transaction worth more than $3.0 Billion and managed portfolios worth more than $ 2.0 Billion. Mr. Nahas has extensive experience in real estate investments in all aspects of acquisition development, disposition and debt financing internationally. In addition to his Ritz Banc Group status, Mr. Nahas is currently an advisor and Investment Committee Member of the State Properties General Authority of Saudi Arabia and MISK City as well as a board member of MASIC Logistics and Al Romaih Industrial Commercial Group.
Prior to joining Ritz Banc Group and for the past 7.5 years, Mr. Nahas headed the real estate investment division of Mohammed Alsubeaei & Sons Investments Company (MASIC) and managed its local and international real estate business. Mr. Nahas is also a Board member of MASIC Logistics and AlFadhili Field Housing for Real Estate Development, subsidiaries of MASIC that he helped incubate. Previously, Mr. Nahas headed Shuaa Capital Saudi Arabia's real estate division where he managed the real estate funds and the day to day operations of the real estate division. He also acted as CEO for Al Oula International a real estate company based on Dubai. Mr. Nahas also worked as an expert advisor with Booz & Co (current Strategy &).. During his tenure with HSBC, Mr. Nahas held the position of Investment Banking Director in charge of the Real Estate sector in the MENA region, at HSBC Bank Middle East and led the IPO of Drake & Scull and worked on many private placements and cross border transactions. Mr. Nahas also worked at the National Investor in Abu Dhabi, Bank Audi in Lebanon, and other leading institutions. His portfolio of achievements includes leading many IPOs, most notably Tamweel and Kingdom Hotel and Investments, setting up real estate development and equity funds, structuring many debt transactions in conventional and Islamic finance, and successfully accomplishing many private placements as well as mergers and acquisitions.
Mr. Nahas holds a Bachelor and master's degrees in engineering with a specialty in industrial management from McGill University in Montreal, Canada. He also completed executive education programs at Harvard and Stanford Universities and is fluent in English, French and Arabic. He resides in Dubai, United Arab Emirates.