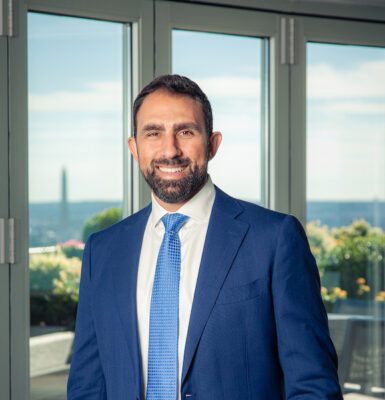 Back to Leadership
Nasr El Hage
Co-Founder & Managing Director
Nasr El Hage is the Co-Founder and Managing Director of Ritz Banc Group. He is also a member of the Executive and Investment Committees. Mr. El Hage has extensive experience in all aspects of the real estate private equity industry including investment strategy, sourcing opportunities, underwriting assets, market research, managing risks, and disposition strategies. At the firm, he also plays a central role in capital markets and investor relations.
Prior to founding Ritz Banc Group, Mr. El Hage was a Valuation Risk Analytics Manager at Freddie Mac managing an $85 billion portfolio of multifamily fixed income assets and Mortgage Backed Securities (MBS). During his 5 years at Freddie Mac, he also held positions in the credit risk department analyzing the credit obligations and economic capital of the firm guarantee business. Previously, he held various consulting positions at BearingPoint (now Deloitte) working both in the public sector on international development projects and private sector mainly in the financial services industry.
Mr. El Hage holds a Bachelor of Science degree in Economics from George Mason University and a Master's degree in Applied Economics from The Johns Hopkins University. He is also a member of The Lebanese International Finance Executives (LIFE), The DC Real Estate Group and Young Presidents' Organization (YPO) Washington DC Chapter and currently serves as its Finance Chair.
Mr. El Hage is fluent in English, French and Arabic. He resides in Arlington, VA.