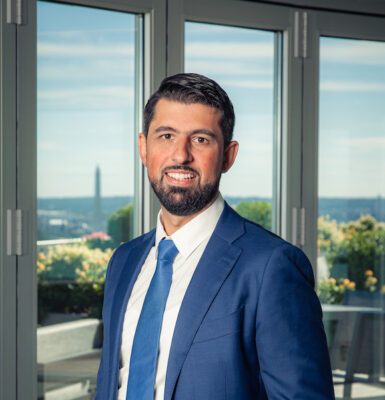 Back to Leadership
Wissam El Hage
Vice President, Asset Management
Wissam El Hage joined Ritz Banc Group in 2020 as the Vice President of Asset Management. He leads the firm's asset management efforts across Multifamily, Office, and Industrial asset classes. Mr. El Hage has extensive experience in all aspects of the real estate private equity industry including operations, 3rd party management, budgets and contracts review, investor reporting and disposition strategies. In addition, he also plays a central role in the firm's technology infrastructure.
Prior to joining Ritz Banc Group, Mr. El Hage was a Senior Network Engineer at SmartSky Networks LLC responsible for the high and lower level design of SmartSky transport network infrastructure. He led key business and engineering driven projects from the design, routing and switching perspective of the LTE Core. Mr. El Hage led a team that assisted and supported operations including network migration plans, configuration guides, upgrade guides and overall architecture. He led the design and development of IP Core infrastructure expansion which provided enough capacity to handle the projected forecast.
Prior to SmartSky Networks, Mr. El Hage was Principal Design Engineer at Time Warner Cable where he managed a team of engineers to form strategies delivering solutions to the business needs. He also managed and selected vendors through SOW and contract negotiations to fit the technical and business needs. Mr. El Hage has earned the MVP award in Time Warner Cable for Q3 2015.
Mr. El Hage holds a Master's Degree in Professional Studies with Concentration in Real Estate from Georgetown University ('2016) and Bachelor of Science in Computer Engineering from George Mason University ('2005).
Mr. El Hage is fluent in English and Arabic. He resides in Arlington, VA.